Çukurova Defense operates as the defense brand of Çukurova Makina, which was established in 1968 and will celebrate its 55th anniversary in the 100th anniversary of our Republic. From the production of tens of thousands of tractors and construction equipment; Çukurova Defense offers effective solutions to the armed forces and security forces, based on more than 50 years of experience in the field of construction equipment, automotive and military vehicles, and the power of 110,000 square meters in total, 15,000 square meters of which is closed, located in Tarsus. These solutions include armored construction equipment (Fast Armored BHL and Armored Loader), as well as armored personnel carriers, mine and ambush protected vehicles, and wheeled chassis platforms suitable for private use. Reference products bearing the signature of Çukurova Defense;

Çukurova Defense, the brand of Çukurova Makina, will take place for the second time in Eurosatory 2022, one of the world's leading Defense and Security Fairs. Çukurova Defense will exhibit 8/9 tons, 10 tons and 14 tons 4x4 MPP Chassis platform vehicles together with the 4x4 Armored Fast Backhoe-Loader at the Fair, which will be held in Paris, the Capital of France, between 13-17 June 2022. The vehicles, developed and produced under the roof of Çukurova Defense (www.cukurovadefence.com) with a hundred percent domestic capital and workforce, offer superstructure opportunities with different features with their structures suitable for all kinds of field conditions.
New Product Launch from Çukurova Defense at EUROSATORY 2022
Armored Fast Excavator-Loader BHL-z and 10 Tons 4x4 Multi-Purpose Wheeled Chassis Platform Çukurova Defense, which meets the needs of the armed forces and security forces both at home and abroad with its innovative solutions, will launch two new products at EUROSATORY 2022. The first of these is the Armored Fast Excavator-Loader BHL-z; the second is the 10 Tons 4x4 MPP Multipurpose Wheeled Chassis Platform. Çukurova Defense is presenting its other two chassis platforms, 8/9 tons and 14 tons, 4x4 MPP chassis at EUROSATORY 2022-Paris,France to the attention of its visitors in Hall 5A, stand B207.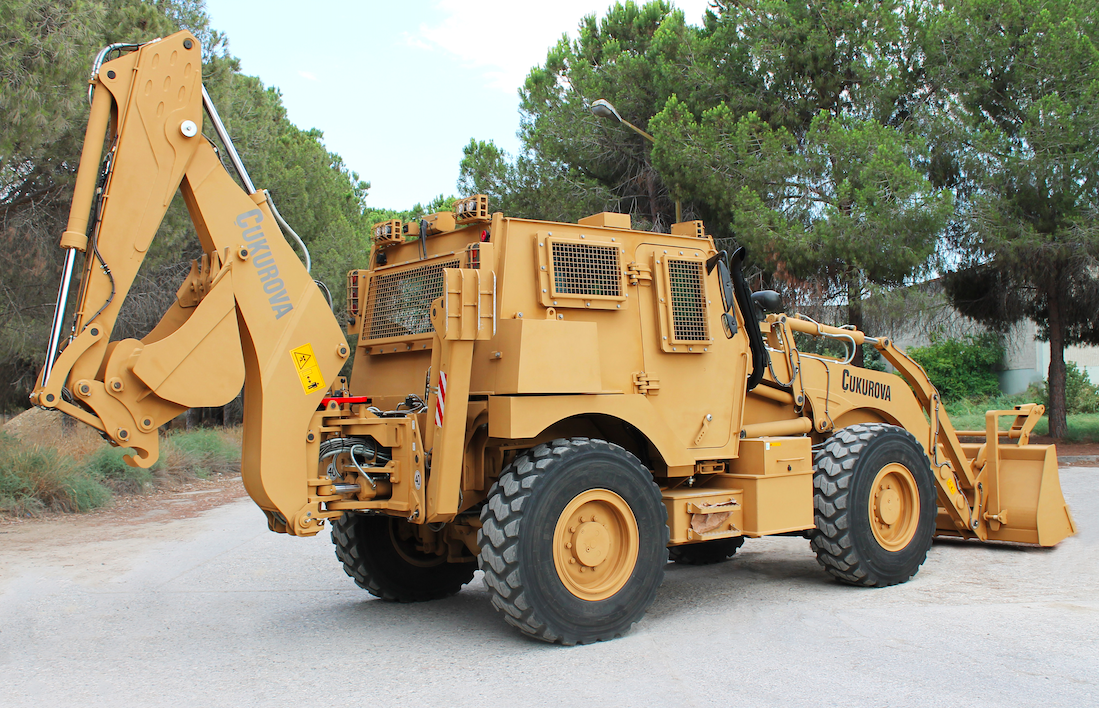 Construction Machinery of the Operation Site BHL-z
Fast Armored Backhoe Loader BHL-z, a 16-ton class 4x4x4 (with 4 wheels driven and turning system on both axles), has a number of technical features that make a difference in field operations. Among them; It has a 220 horsepower engine, 6/3 gear Ergo-Powershift electronic transmission, 77 km/h top speed, HPSS suspension, flat tires, BR7 ballistic protection level and STANAG 4569 2a/2b (simulation) mine protection. Thanks to these features, BHL-z not only provides high protection but also fulfills its mission reliably, meeting the needs in operation areas with high threat levels. Users know that they can rely on BHL-z when other machines fall short. BHL-z, In addition to its standard features that are ahead of the competition, it can meet the different needs of end users with a number of optional features. Optional features include; cameras, communications equipment, automatic fire extinguishing system, central lubrication, carbon filters and remote control, as well as drone-assisted surveillance and reporting.
Wheeled Chassis Platform of Innovative Vehicles
Çukurova Defense, which also develops chassis platforms that provide effective solutions for the armed forces and security forces when combined with different superstructures, will exhibit its new 10-tonne 4x4 MPP -ISAS front axles, Rigid rear axle system- chassis vehicle for the first time at EUROSATORY 2022. This is the new chassis; It combines a 285 horsepower engine, a 6-speed fully automatic transmission, a top speed of 120 km/h and a 60 percent slope climbing capability in line with military and NATO standards. With this chassis, which can continue on its way uninterruptedly by overcoming obstacles in the tactical field with its approach and departure angles and the ability to pass through deep waters up to 700 mm, Çukurova Defense aims to provide a significant increase in mobility compared to other 4x4 platform chassis.
Çukurova Defense offers the most suitable chassis platform solutions with its large R&D team, challenging test processes and flexible production capability
Çukurova Defense Deputy General Manager Hüseyin Darıcı says the following about their participation in EUROSATORY 2022: "Çukurova Defense aims to be the leading player in the coming period in its fields of activity. EUROSATORY 2022, which we participated for the second time, is one of the important steps we have taken towards this goal. Our 10 Tons 4x4 MPP Multi-Purpose Wheeled Chassis Platform solutions, which we will exhibit for the first time at the fair, are among the leading products of their fields. We fully believe that these products will be the choice of APC/MRAP and special vehicle manufacturers and many end users both in Turkey and around the world. We have 4x4 multi-purpose chassis solutions suitable for platforms from 8 to 18 tons MPP, as well as in line with the needs of users, We can also offer solutions for 6x6 and 8x8 multi-purpose chassis. We are also planning our Wheeled Tactical vehicles (TWVs, 4x4 and 6x6) in the upcoming periods. We offer the most suitable chassis platform solutions with our large R&D team, challenging test processes and flexible production capability. I invite them to our stand in order to present our vehicles and projects that we have developed and produced with 100% domestic capital and workforce to the fair participants.